The Last Line of Defense:
BullWall RC Isolates Ransomware in Schools
Cybersecurity incidents are growing. In the last few years, rates have risen to triple the rate in previous years. During the COVID-19 pandemic, we saw record-high rates of cybersecurity threats.
358%
Increase in malware
usage in 2020
435%
Increase in ransomware
usage in 2020
653%
Increase in malicious activity
online in July 2020 alone
For schools, protecting students and staff from hackers is a priority. Data breaches can be costly. According to IBM's Cost of a Data Breach Report, the global average cost of a data breach in the education sector is $4.77 million per incident. Many districts can't afford such a significant loss.
BullWall RC acts as your district's last line of defense against the rising cybersecurity threats.
Send the Whitepaper to Your Email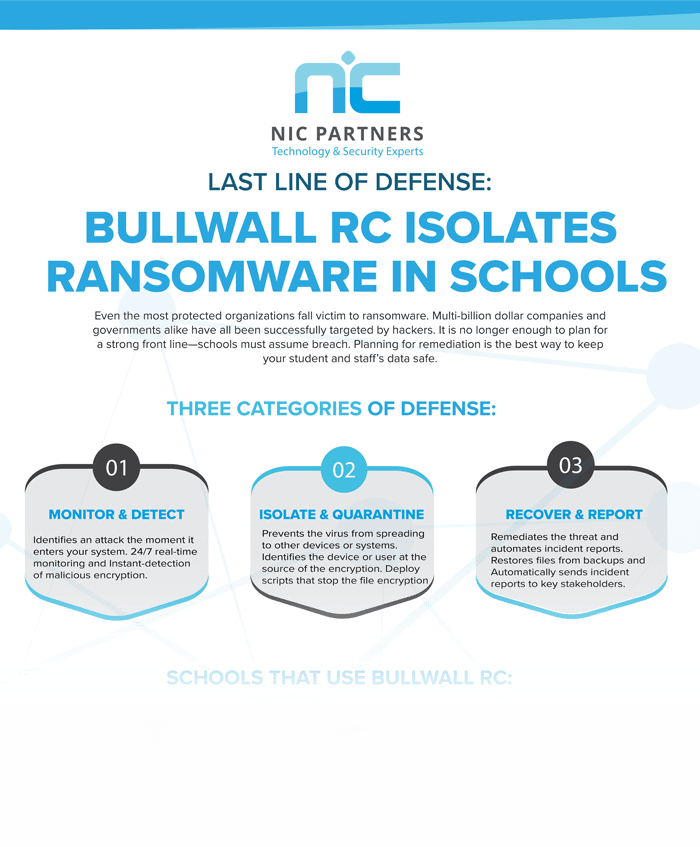 Download the whitepaper to learn:
The best way to respond to ransomware
Three categories of ransomware defense
How BullWall protects your school
Which schools in your area use BullWall
Take a Ransomware Assessment
Want to understand your level of preparedness against ransomware?
Take our assessment to test eight different categories of defense.