Spotlight: Cisco Meraki Security
Sluggish Wi-Fi Slowing Down Your

Organization

?
Slow network performance just won't do when it comes to your organization. You need speed, performance, and security that works as effectively as you do. Regardless of your organization's size, tap into reliable, enterprise-grade wireless networking solutions that deliver superior coverage in high-density wireless environments.
Run Your Business Faster on Cisco Meraki Wireless Solutions
Settling for less is a thing of the past when it comes to wireless networking. Cisco delivers a perfect match of speed and security with Meraki wireless solutions. Get enterprise wireless coverage and features on any budget. To learn more, download the Cisco Meraki Wireless Cloud-Managed Wireless Access Points data sheet.
Meraki Health
Rapid root cause analysis is easier with dashboard visibility to your network's performance. Meraki Health tracks each stage of client connectivity to support faster issue resolution.
Global Scalability
Globally apply network data collection to extract insights and make configuration changes at scale to optimize Wi-Fi performance.
Built-In Guest Access
Providing secure guest access to Wi-Fi is essential. With Cisco Meraki wireless solutions, guest Wi-Fi with analytics comes standard.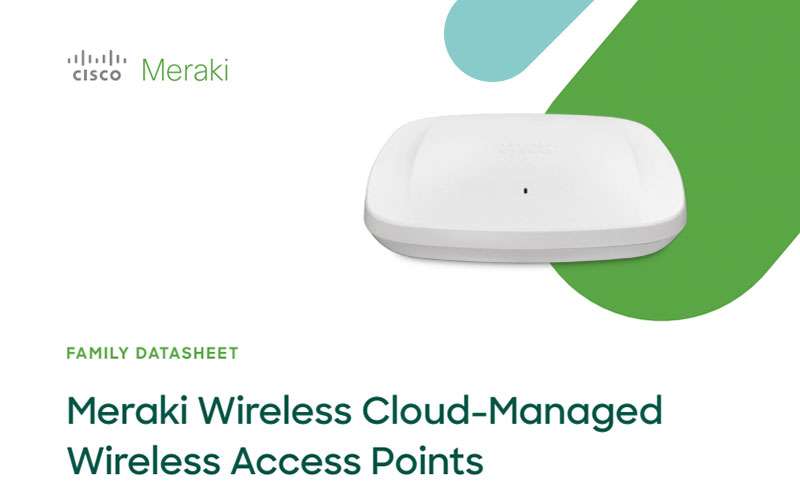 Enterprise-Grade Features
Serve any sized group with best-in-class, scalable wireless solutions. From easy deployment, to malware prevention, and intelligent, user-based updates, Cisco Meraki wireless solutions deliver all this and more:
Self-configuring plug-and-play deployment
Advanced security to protect against malware/ransomware
Integrated intrusion detection and prevention system (WIDS/WIPS)
Intelligent firmware upgrades that minimize downtime
AI/ML-powered analytics for root cause analysis and Wi-Fi troubleshooting
Flexible group policy engine for creating and applying application-aware policies by network, device type, and end user
Wi-Fi personal network (WPN) on any shared network (dorms, senior living, hotel rooms, etc.)
Email and text message alerts upon power loss, downtime, or configuration changes
FIPS-140-2 compliant, IPv6 compatible, WFA-certified APs
Deliver a better wireless experience to your business users with Cisco Meraki wireless solutions. Contact us today for a consultation.