Cisco Webex Board
All-in-one device for team collaboration
With the Cisco Webex Board, you can wirelessly present, whiteboard, video or audio conference, and even annotate shared content. The Webex Board has everything you need for team collaboration at the touch of a finger. Use the Cisco Webex Teams app to connect with virtual team members through the devices of their choice.
Features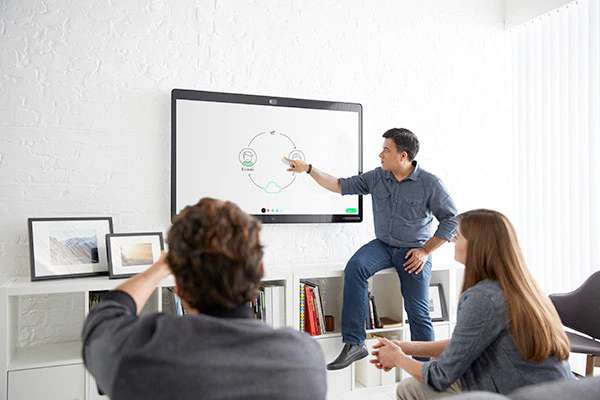 Designed with you in mind
Enjoy an easy-to-use, touch-based, high-quality collaboration experience. The Cisco Webex Board integrates the most common tools needed for team collaboration in physical meeting rooms into a single elegant device.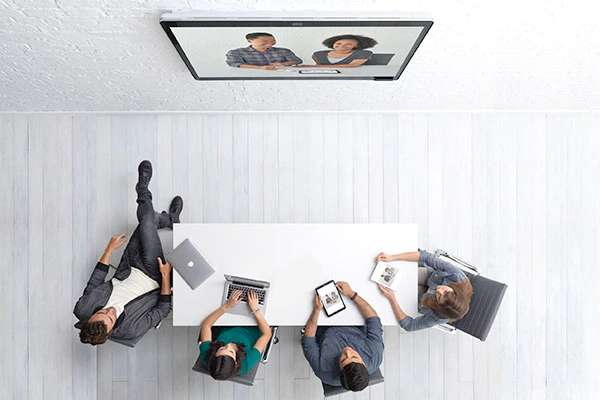 Connect virtual teams through the app
You can store everything you create on the Webex Board in the cloud and associate it with a virtual room. Team members can use the Cisco Webex Teams app to pick up where they left off in the physical room and continue working anywhere.

Intelligently anticipates your needs
The Webex Board automatically wakes up when you enter the room. It detects your Webex Teams app-supported device and suggests an activity, such as call, whiteboard, or wirelessly share your presentation.

Technology for natural experiences
A powerful 4K camera captures a high-resolution, wide-angle image of nearly the entire room. A 12-microphone array delivers crisp, clear audio, automatically amplifying and modulating voices so that all meeting participants sound great.

Whiteboard with your entire team—local and remote
Create whiteboards with ease on the Webex Board or through the Webex Teams app. Enjoy two-way whiteboarding, pinch/zoom and more.
Technology for the Next Generation
See how Shawnee Mission School District is using Cisco collaboration technology to influence the next generation … today.
Read more about the Cisco Webex Board here
Contact Us About The Cisco Webex Board Today
[gravityform id="2″ title="false" description="false"]